IFOST employs two of the world's leading experts on Microfocus DataProtector, each with decades of experience, dating back to when it was HPE DataProtector / HP DataProtector and all the way back to when it was called HP OpenView Omniback:
Greg Baker who has (among other things) written several books on using DataProtector, and taught almost every class in Australia since 1997.
Paul Carapetis who was the tech and pre-sales guru for HP before joining IFOST.
We have worked with hundreds of clients --- particularly in the Asia-Pacific region, but also worldwide --- across just about every industry vertical there is. We maintain the Wikipedia article on HP DataProtector, and a blog occasionally.
The kinds of engagements customers find helpful:
Licensing review

If you have been using DataProtector for a while, you might find that one of the newer licensing models might save you some significant amounts of money.

Long-term Management

This usually involves around 10 - 15 hours per month to maintain your backups, add in new servers, address any errors and keep all servers patched and up-to-date. Customers also use this at times when their staff are unavailable, busy with other projects or when they just want some peace of mind about backups for a while.

Disaster recovery

Been there, recovered that. If you have just been hit by a ransomware attack or some other disaster, get in touch ASAP and we can help you get you back on your feet. We've rescued companies having disasters many, many times.
Cloud backup planning
DataProtector works well in Amazon EC2 and other cloud environments, either with or without DataProtector for Workloads! Whether you put your cell manager in the cloud or just the media and disk agents, you can dynamically add and remove systems from your backup specifications and know that no data is ever getting lost.
Health checks
This is usually two-to-three days, often spread out over a few weeks in order to fully understand your backup cycle. We will make sure that everything is getting backed up, that you are getting the best performance you could expect, that all the options for disaster recovery and a complete backup are in place, and that nothing unusual is happening.
Working out what parts of your support contract you can drop
It's not that support contracts are obscure and hard to understand. OK, well, yes someetimes they are. Email us your support contract, and we'll explain what it does and doesn't cover, confirm what you do and don't need and arrange for the best price possible on it.
Recovering a corrupted internal database
We have big-endian machines, little-endian machines in 32-bit and 64-bit flavours, and just about every version of DataProtector released. Sometimes we get customers whose database is a lost cause but quite often we can get it back into a usable state again.
Full implementation
This takes anywhere from two days to eight weeks. Everything: workshops with your team to understand their backup needs and your backup windows, project management of new equipment purchasing and delivery, software installation, deployment and configuration, and helping with setting up tape cycling procedures.
Tape copying and migration
Do you have a large number of legacy tapes that you want converted to a newer format? (e.g. DDS to LTO-4). This can be done quite cost-effectively.
Our style of consulting is not to dash in and out leaving you with a system that you don't understand. Our philosophy is to hand over gently and make sure that your staff are comfortable and confident.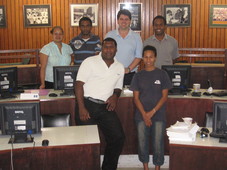 Greg Baker, in the old parliament house, Port Vila, with the Vanuatu Ministry of Finance's backup team.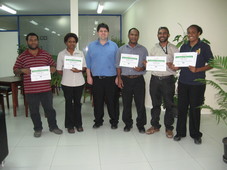 Greg Baker after delivering the first ever training in Papua New Guinea on DataProtector.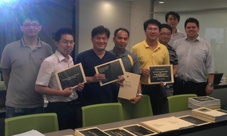 Greg Baker, with some of the HP sales, pre-sales and partners who attended the first DataProtector Advanced training (Taipei, July 2012).
Some DataProtector resources